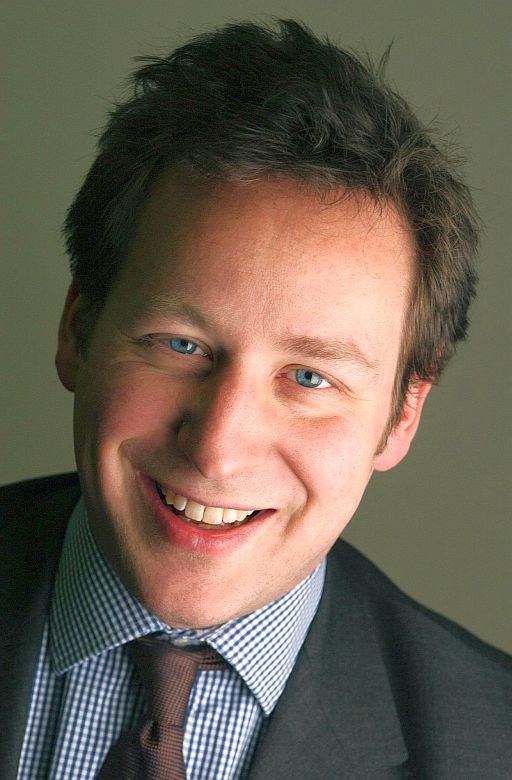 1) You have been Shadow Arts Minister for about three years. Is this a job you would choose for yourself and how are you finding it?
I asked David Cameron for this job. I thoroughly enjoy it, and I hope I will keep it if we win the next election, and more than that, hold on to it for a considerable period of time, after that at least long enough to make a difference. I believe strongly in the importance of culture. It permeates every aspect of our life, it is the hallmark of a civilised society. We're actually pretty good at it, and our culture has thrived in the last fifteen years, thanks to the huge injection of cash provided by the National Lottery, set up by the Conservatives.
2) Your mother, Marina Vaizey, is a well known art historian. How much influence did she have on your knowledge and appreciation of art?
The arts were very much part of family life. At a young age I got taken to galleries and performances, and the house was full of art and books. So in a sense it is in my DNA but I don't come near my mother's knowledge and expertise.
3) The Conservatives intend to re-align how the lottery funds are spent. What implication does this have for art in Britain?
Our flagship policy is to return the National Lottery to its four good causes. The amount of National Lottery funding going to arts and heritage has fallen by more than half from £906m in 1997 to £444 million ten years later, a fall of more than 50%. This is an absolute scandal, with money being siphoned off to pay for the Government's pet projects. Just think what a difference that money could have made in the last few years.
So we will redistribute money that the Big Lottery Fund is currently giving to Ministerial pet projects back to the good causes of the arts, heritage and sport. On today's figures, that represents an annual increase of £53 million for each of the good causes. The proportion of the Lottery that they will receive will rise from the current 16.6% to 20%.
We will also reform the regulations surrounding giving. A key priority is to enable people to give works of art to the nation during their lifetime. In addition, we will simplify Gift Aid will be simplified to make it much easier to sell its attractions to potential donors. We would also like to free up museums and other arts NDPBs so that they are able to acknowledge and celebrate their significant donors much more easily.
4) It is now free to enter many art galleries, a policy which has been acclaimed as a great success. Where will the Conservatives go with this?
We are absolutely committed to maintaining free admission to national museums – I know free admission has significantly increased attendance, and that it gives real meaning to the idea that these museums' collections are owned for the nation.
5) The Conservatives are promising to act against QUANGOs, where does this leave the Arts Council (ACE), NESTA, AHRC, MLA and all the other myriad arts organisations that consume public funds?

As set out by David Cameron this summer, our concern is that quangos shouldn't be doing jobs that Government departments should be doing. So following David's speech, we are carrying out a review of DCMS quangos and looking at moving policy making functions back to the Department.
DCMS has more quango s than any other Government department. There are good reasons for this – decisions about the creative arts, and arts funding, should be conducted at arms length from Government to ensure they are free from political interference.
However, in the good times it has been too easy to, for example, create a new body rather than add responsibilities to one already in existence, or fund several bodies which have overlapping roles, when they could more be more effective and efficient when merged. The difficult decisions about whether this body or that body is really effective, or necessary in a particular area have been ignored when there was plenty of money to spend.
So the quangos review is partly about money in these financially straightened times, but also about coherence and clarity.
The Arts Council was established in circumstances very different from today – there was no Department responsible for culture, it was not until the 1960s that there was even a minister responsible for the arts. There is now a department of state responsible for cultural policy but there has never been a debate about its relationship with the arts council.
I think this has created a problematic relationship – James Purnell, a Secretary of State long gone, commissioned the McMaster report knowing it would fundamentally change the direction of arts policy away from instrumentalism and towards excellence, yet the Arts Council had no involvement.
Under Labour, sometimes the Arts Council is independent and makes its own decisions – for example, the 2007 funding cuts debacle, but sometimes it implements policies imposed by DCMS - for example the £2.5 million scheme to give free theatre tickets to those under 26.
From where I'm sitting, it seems that successive Secretaries of State say that ideas that are badly received were taken by the independent arts council, while ideas that are well received have come from their Department. This is not only confusing to Arts Council clients, but unfair on the many talented people that work there.
So there needs to be a fundamental debate about the relationship between the Arts Council and its sponsoring Department. Of course Alan Davey and Jeremy and I are discussing this; I would welcome all your thoughts on the matter too.
6) There have been some notable successes with public art in recent years. The Angel of the North has rapidly become ingrained in our national culture, for instance. What are your thoughts on public art going forward?
Public art definitely has its place, and can be absolutely wonderful, but it's not a panacea. It is tempting for politicians to encourage these kind of projects, or arts building projects, if only to be able to have their picture taken in front of them once they are finished and claim (at least some) of the credit. Our localism agenda is focused on returning power to communities, so in the spirit of this the best route to success for public arts under the Conservatives is likely to involve building support amongst the community they are intended for in order to get going.
7) The Cultural Olympiad is running alongside the London 2012 Olympics. What are your thoughts on the Olympiad?

2012 has the potential to bring the key strands of culture, creativity, tourism and sport together in the UK in an extraordinary way. As Conservatives we are aware of this, and we are thinking hard about how to capitalise on the multiple opportunities the Olympics bring.
First, we need a coherent, organised strategy to make the most the 15,000 journalists that will come to London for the Olympics. If we look at the example of the Sydney games, Australia managed to leverage those games to quadruple the number of tourists per year around the games. Nearly ten years on from their games, their annual visitor numbers are still double what they were prior to the games.
We would like to see a structured programme that ensures all visiting journalists have the opportunity to visit another part of the UK.
Where will we take them, and what will we show them? The obvious answer is our world class culture and heritage, from the Edinburgh Festival, to Stonehenge, to the Baltic.
We have concerns over plans for the Cultural Olympiad also – while we welcome the formation of the new committee and appointment of Tony Hall to the LOGOC board, I am worried that its make up is London-centric, and biased towards the subsidised arts. For a successful Cultural Olympiad which engages with as many people, we feel the full participation of the popular and commercial sector is vital. I would like to see free concerts in Hyde Park, or Buckingham Place – let's remember 2012 will be the Queen's Diamond jubilee - as well as up and down the country .
The irony of this is that it comes at a time when so much is going well. The Olympic Delivery Authority has made significant progress with the construction and The Organising Committee has done extraordinarily well to bank over £0.5bn in sponsorship. The BOA is reorganised and refocused and, with UK Sport, delivered a record medal haul in Beijing.
However, if in October 2012, the area around Stratford has been transformed and we are left with a host of happy memories but no more people enjoying the opportunities available through sport, our tourism numbers have not significantly increased, and no-one new excited by a amazing live gig, or new dance piece they have seen, it is difficult to avoid the conclusion that we will have missed a once in a lifetime opportunity.
8] At least three of the world's top living artists are British, Damien Hirst, David Hockney and Lucian Freud, do you think that their talent and works are widely enough appreciated by the people of Britain?
I think they each have a reputation and public profile that speaks for itself, both at home and abroad. Perhaps not every man in the street would recognise their names, or their work, but I think the obligation of Government is to support cultural life, and to make culture in its widest sense available, so individuals are able to see a Lucian Freud retrospective at the Tate, or Damien Hirst's new show, if they choose to, and many do.
Equally many choose to go to the theatre, a gig, or a football match, a cricket match, or read a book, or play a video game, in their free time instead. The key point for me here is this: As much as I think art is valuable and important, and I personally enjoy it both in my job and my free time, I think it is for individuals to make their own free choices about what brings enjoyment and intrinsic value to them, and thus how they choose to direct their attention and spend their time.
I would make a distinction between this view of Government's responsibility in regard to the arts and adult citizens and Government's role in education and cultural education. I do think that all children should be exposed to a range of art and culture, have opportunities to learn a musical instrument, and how to draw and so on, as well as and learn something of how art and culture can be analysed and appreciated, as an essential part of their education. For me this is about providing opportunity – in this case and introduction to British art and cultural life in its widest sense, which individuals can then choose to pursue and deepen, or not, in adult life.
9) Britain has an amazing heritage at anything creative, it is almost the defining national characteristic. Why do you think that this should be so?

Bad weather? Shakespeare? A sense of irony?
Certainly a creative culture, which I think Britain does have, creates and enables more creative talent. What brought about this creative culture? We could be here all day discussing it, so here's a quick attempt: European monarchies have valued the arts – music, painting, theatre – for hundreds of years. Perhaps even that was inherited from the Greek and Roman classical world. Perhaps the industrial revolution beginning here, which created the empire and made us the most powerful economy in the world for over 200 years meant that we had both the means (wealth) and the inclination (as a way to express that wealth) to nurture and extend creativity in all directions. The Victorian era, funded by the industrial revolution and empire, gave birth to many of our now outstanding cultural institutions, such as the National Gallery and beyond. If we're on a creative roll now, its roots stretch back hundreds of years.
10) Your three hour lunch with Tracey Emin received a lot of press coverage recently. What is your perspective on the lunch?
I hope it is a good thing that I try to make time to spend with some of our leading artists, as well as the arts administrators, museum directors and chief executives that stand behind them. I genuinely love my job and I consider it to be an amazing privilege that I get to spend time with artists, from the very well known to those just starting out.
11) Is there much that politicians can actually do to nurture nascent artistic talent?
Yes and no. On the yes side: talent needs opportunity, and I hope our lottery proposals, and aims to reform and simplify arts quangos will ensure as much money as possible is available to artist and arts companies, giving them plenty opportunities. Having said that, it is probably inevitable that there will always be more talent than there is funding available.
On the no side, there is no formula for artistic talent, and any Government would be foolish to try to specify or prescribe what talent is, or one way to find it. Given this, I think simple, transparent funding streams which are skewed in favour of new talent is the best way to spread opportunity as widely as possible. Perhaps too, if artistic talent is partly a matter of opinion, politicians need to keep an eye on those making funding decisions and ensure they are rotated regularly.
To be successful a talented person also needs to be hard working, disciplined and probably be a bit lucky. This is even more true in the arts than elsewhere. Politicians can provide funding to create opportunities, especially for new artistic talent. The hard work, discipline and luck can only come from artists themselves.
12) Where do you draw the line between art and vandalism when it comes to graffiti?
Banksy
13) Do you have any time to actually practice any creative art yourself?
Does singing along to music as I'm driving around the constituency count?
14) And finally the difficult question. Would you hang a Jack Vettriano original in your own home?
Yes definitely, if I could afford one.